They Shall Walk is a non-profit medical research corporation in the state of Washington.   It was founded to give the gift of walking, raise awareness of paralyzed and other disAbled persons, improve their quality of life through technology and provide for the needs of mobility impaired.
Get involved: volunteer, advocate, and donate.
Food Life 4 U www.FoodLife4u.com  Shop via the ongoing food fund raiser
Make a One Time Donation by mailing a check to :
They Shall Walk 3411 Alaska Rd, Brier, WA 98036
They Shall Walk was founded by Monty K Reed in 1986 specifically to build the LIFESUIT robotic exoskeleton that would give him his life back.  After designing the system Monty experienced a miraculous healing and was able to walk again.  He still suffers daily with pain and partial paralysis that comes and goes.  In spite of the challenges Monty has made a commitment to continued health and rides a bike over 10,000 miles a year and participates in cycling events such as the STP
http://www.facebook.com/TheyShallWalk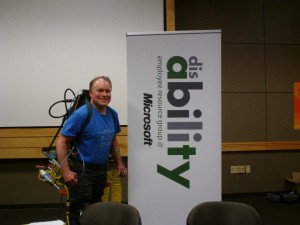 The next step in the Gift of Walking timeline is the Rehabilitation model of the LIFESUIT called the RehabSUIT.  Paralyzed people will use the RehabSUIT to stand, walk and exercise.  Microsoft has just sponsored in with $1.2 million in software towards the $14 million institute facility in Seattle (AKA the "North Lab").  They Shall Walk and will be manufacturing and selling the therapy version of the robotic suit as soon as we raise $2 million.  Exoskeletons are now being tested in hospitals with favorable results.
Your donation will get us one step closer to the Gift of Walking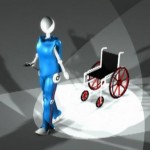 Video of the LIFESUIT  https://www.facebook.com/photo.php?v=4201838326871
In the future paralyzed people will have a LIFESUIT for use at home and in the office.  For instance the LIFESUIT LS14 weighs about 75 pounds and is powered by compressed air. It will allow the wearer walk up to about 2.5 miles per hour and to ascend and descend stairs. The next model, known as LIFESUIT™ LS15 can stand and balance unmanned, it will be controlled in the same way as a powered wheelchair with a joystick. Future generations of the LIFESUIT™ may incorporate a wet-suit style outfit composed of 'biosynthetic muscle fibers'© ™, fuel cells or "Fuel Pods© ™" and lightweight power paks.  It will be worn under the clothes and allow paralyzed to walk and no one will ever know they were paralyzed.
There are millions of disabled people that can benefit from the LIFESUIT™ including the SCI, Elderly, Veterans, people with sports injuries, accident victims, and people with congenital defects.
Make a pledge today to support our work and help us give the gift of walking. Thank you Rotary
Join They Shall Walk as a supporting member for $50 per year. You will receive a newsletter and VIP entrance to all events.
They Shall Walk is a Project of the Protocol Foundation  www.protocolfoundation.org a 501C3 nonprofit. Each donation means the disabled are one step closer to walking again. If you would like to help our cause you can click here to go to the donation page or click on the navigation bar on top.
Talk to the Founder Monty K Reed.      monty (AT)  theyshallwalk.org
206-250-5639 direct line good for texting too.