The Generosity Factor:By Ken Blanchard, S.Truett Cathy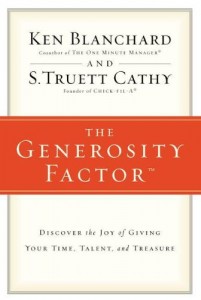 http://www.theyshallwalk.org/?p=2200          Share this link
A great quick read. I stayed up  way past my bedtime reading this.  It was well worth it.
Then to learn the book is based on the principles of a man who has been very successful in the eyes of man and by the rules of capitalism where the amount of money you earn is a way to keep score, this guy is way up there in the points department.  In the world of significance were the amount you give of the four T's  … Talent, Time, Treasure and Touch, this guy ways in with even more points in a week than most people achieve in a lifetime.  Not put it down, I needed I mean NEEEDED… to get to the end to know what the meaning of the Generosity Factor was and what were the keys to transitioning from Success to Significance.
You have got to get this book.  It will be a great read and a great gift to give.
You will rush to get to the end of the book to learn the keys to the Generosity Factor.  When you get there you will be so glad you did.  When you start to apply the principles to your life you will see changes you could not have imagined.
You may want to compare this to "The Gift" by Thach Nguyen    http://astore.amazon.com/theyshallwalk-20/detail/0615494609