LIFESUITnews Cypress PSoC Apps for your Exoskeleton   (share with shortlink http://theyshallwalk.org/?p=1174)
The Cypress PSoC (Programmable System on Chip ) is just that, a system on the chip that can be changed in a line of code.  The software literary reconfigures the hardware.  We have been using the PSoC for the LIFESUIT robotic exoskeleton for a few years.  Cypress has been a great suppporter over the years and is giving the gift of walking by supporting this project.
Watch this video to find out more.

In 2002 we had exceeded the capacity of pic micro controllers and started looking an an array or network of micro controllers for all of the over two dozen sub systems of the LIFESUIT robotic exoskeleton. Finding the Cypress PSoC at a Seattle Robotics Society meeting was perfect. Several of the crew from www.TheyShallWalk.org were already members of SRS and we attended a workshop at the Cypress Semiconductor office in Lynnwood WA. Later Cypress was kind enough to send several of their staff to our research lab and train us on new aspects of the PSoC. Because the PSoC is so Great we are able to get a lot of things done. Thank you Cypress for the PSoC.http://www.cypress.com/ www.TheyShallWalk.org this means the gift of walking is at hand now. We expect to have a machine ready 2011 to ship to a hospital in Vellore, Tamil Nadu, India the CMC Christian Medical College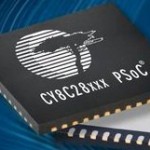 Category:
Tags: