Celebrate Shoreline the First Sunday in May and October Cruise The Ave so They Shall Walk
In 2011 it will be May first and October second.  Back on October 30, 2010 was the fourth annual They Shall Walk and Roll a thon in Shoreline.  This event has been a chance to share the mission of They Shall Walk with the masses and raise money for They Shall Walk.  This year we added a car show component.  Over seventy cars showed up and it was great.  I demonstrated the newest version of the LIFESUIT robotic exoskeleton (LIFESUIT prototype 14B).  We had three doctors show up to see the latest prototype.  Everyone had a good time too.
(short link to this page http://theyshallwalk.org/?p=360)
The Bill Pierre Ford http://www.pierreford.com/ had several cars at the car show.  There were a lot of prizes given out for best car is many categories.
The next event will be on May 1, 2011 and we expect several hundred cars.  The verbal commitments are over two hundred already.
http://www.cruisetheave.org/cruisetheave-hm
http://www.oldride.com/events/5096183.html
http://shoreline.patch.com/events/cruise-the-ave-so-they-shall-walk
Some pics from last event: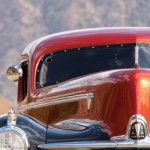 More photos at the RPM website
http://realperformancemustangs.com/rpm-news-articles-interviews/walk-and-roll-a-thon-car-show-to-benefit-'they-shall-walk'/msg8677/?topicseen#new