Cypress Semiconductor gives the gift of walking w/ PSoC VLOG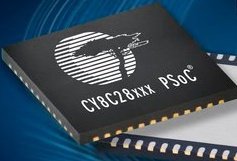 An update from the lab by Monty K Reed.    (Shortlink http://theyshallwalk.org/?p=821 )
Using the PSoC (Programmable System on Chip) has been like magic in a box.  As we look back on the development of electronics I see a few major advances I have seen first hand.  Tubes, to components, to IC (integrated circuits)… most people are familiar with these concepts.  Today many young people may only know that tubes are used in Amps for guitars because so many artists believe the tube amps 'just sound better'.  In the late 1980's I toured a facility in Totem Lake (near Kirkland, Washington) where an advancement was being used.  IC's that had multiple layers.
The 'real estate' had been doubled by adding a second layer and then more layers were added.  The multiplication factor was hard to imagine.  This was the first time I was learning how to use 'solder-less bread boards'.  In the old, old days electronics hobbyists would drive nails into an actual bread board from the kitchen.  Many a domestic disturbance have been caused by the wife wondering "where is the bread board?"  The solder-less breadboard is a prototyping board that allows us to push wires, chips, sockets and components into a circuit to test until we determine how it works.  From there a soldered board could be made.
The PSoC is the next level of advancement.  We write the program to control the LIFSUIT robotic exoskeleton.  When we want we can literally reconfigure the hardware in the chip by changing a line in the programming code.  The software controls the hardware.  In this setting the software is merged with the hardware.  It is amazing to see the multiple layers and now each of the components in each of the layers can be changed line by line as you run the program.  I am sure there is some math that can show the benefits but for me it is nearly in calculable,  for me it is since I have  a learning disability.
http://youtu.be/3s_86wyhTbE
http://www.youtube.com/watch?v=3s_86wyhTbE
In 2002 we had exceeded the capacity of pic micro controllers and started looking an an array or network of micro controllers for all of the over two dozen sub systems of the LIFESUIT robotic exoskeleton. Finding the Cypress PSoC at a Seattle Robotics Society meeting was perfect. Several of the crew from www.TheyShallWalk.org were already members of SRS and we attended a workshop at the Cypress Semiconductor office in Lynnwood WA. Later Cypress was kind enough to send several of their staff to our research lab and train us on new aspects of the PSoC. Because the PSoC is so Great we are able to get a lot of things done. Thank you Cypress for the PSoC.http://www.cypress.com/ www.TheyShallWalk.org this means the gift of walking is at hand now. We expect to have a machine ready 2011 to ship to a hospital in Vellore, Tamil Nadu, India the CMC Christian Medical College
Category: